Bruce Quigley was first up, and was a hard act to follow with his John Williams HOW creation and an ornament inspired from a Michael Kehs HOW.
Here's a pretty fantastic box from Tom Gall. He used two centers and Michael Kehs cup burrs. That's a holly finial on top.
Steve Hillerman made a Cherry/Ebonized Rock-a-Bye Box, just because he could, along with an Apple bowl, a Spalted Maple bowl, and a hollow vessel.
Ed Ryan showed some fantastic pieces made with Engineered Lumber- check out the crazy figure in these turned boxes, bowls and a multi-axis Mark Sfirri-style candlestick holder.
Joe Seltzer brought along some recent additions to his collection- pieces by Derek Bencomo, Michael Foster, and Dan Zobel.
John Manura provided a detailed account of how to make a Dizzy bowl using the Accu-Slice® and a jig he invented for glue-up. The larger vessel has 75 layers for a total of 5,000 pieces. John also brought along some bangles and generously donated a knife for the 50/50 Raffle, won by Gil Malave. To see videos of how John does this, check out his website.
Ryan Lazaar stopped by to show us his recently turned Sinker Redwood hollow vessel with an African Blackwood finial. Ryan's teacher, Dennis Fuge, gave him the African Blackwood for the finial.
Barb Serratore brought along her humorously sculpted (Orange Trumpet?) fish that was equally at home on [the] Wall or the Mueller Report. It's a great satirical addition to her fish series.
Want to collaborate? Bob Crowe is looking for some ideas to finish off his stacked spheres- catch him at our next meeting if you are interested. They can be separated!
Bob Collins has been busy making pens, bowls, and his first hollow vessel. He made the pens with Steve Hillerman in a HOW, and highly recommends this class.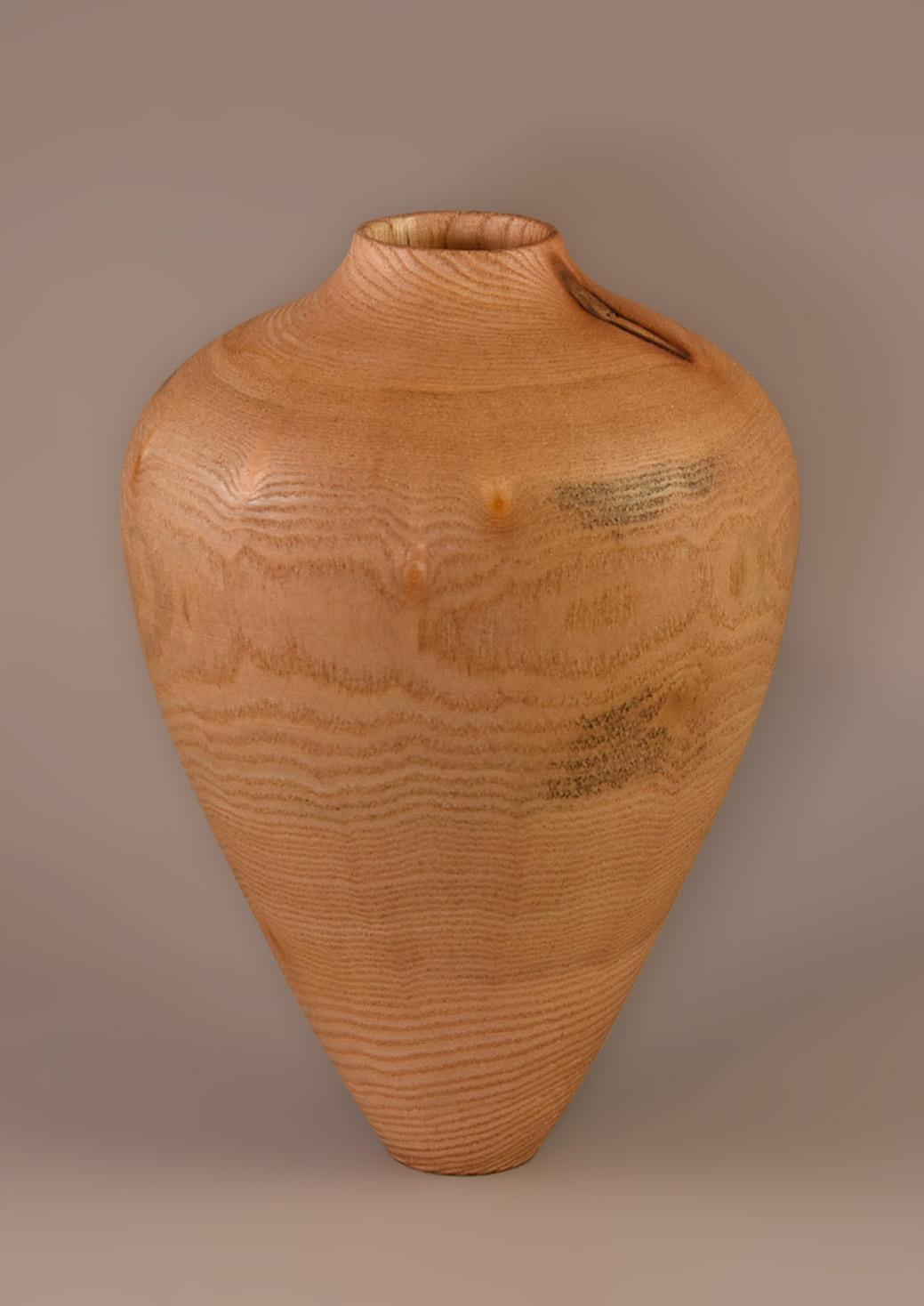 Dennis Fuge has been busy making 85 bottle openers and wine stoppers for his daughter's wedding. He sure knows how to show off a wood's figure! He also brought along a piece from his Saturn series made with copper, wood, stone and solder. The texturing was done with a wire brush.
David Shied used Purple Heart and Walnut to great effect in this banded bowl.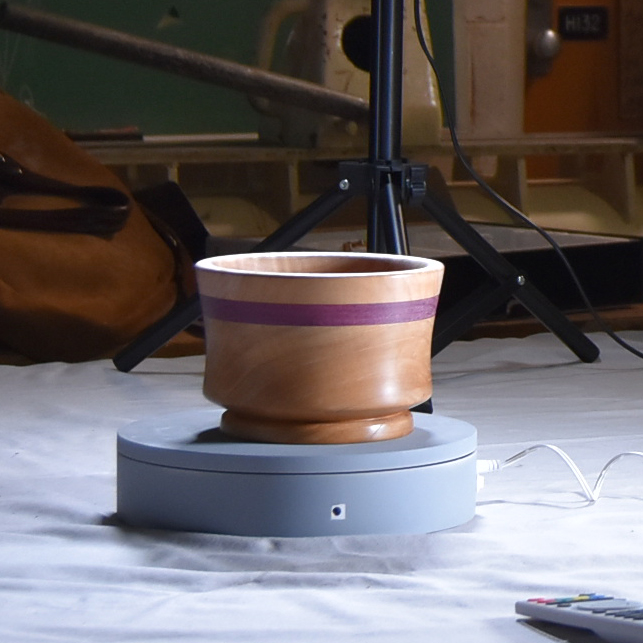 Eric Podietz is working on making bowls and is making great progress. He has been working with Walnut, Ash, Peach, and Mulberry. Eric also turned an Ash and Cherry egg and cup.
Sebastian Montagano brought along a platter he made at Mike Tanner's HOW and a box he made at Phil Hauser's. You had to be there to hear the pop as Sebastian opened the box- the mark of a well-made lid!
Brian Maguire has combined Walnut and Hickory to make these fancy bowls. He's finding new ways to use some 5/4 stock he has in his inventory.
Linford Sine was inspired by a Woodsmith TV episode to make this box with a threaded lid. The vessel is stave constructed from walnut and has a maple and walnut top. Those are some beautiful threads!
New member, Kyle Stier, brought along a number of pieces he's working on. He, too, is making great progress and enjoying working with highly figured wood and, like Ed Ryan, is exploring plywood as a medium.
Many thanks to everyone who brought pieces in to share with us!