Joe Seltzer brought in some of Bill Smith's iconic open segmented pieces. Bill was recently given the Segmented Woodturners Lifetime Achievement Award, which Joe accepted on Bill's behalf.
Joe brought in a few other items as well, including 3 pieces by Ray Feltz, a vortex bowl by Hal Metlitzky, a segmented bowl by Robert Beaupre, and a segmented vortex vessel by John Manura and two pieces by Jim Rogers. That little one (in the magnifier case and shown alone in the last frame) is a 3D printed vessel made to look like a segmented vessel.
Another amazing piece Joe brought along was a very open segmented piece by Robin Costelle.
We know Joe likes to make small turnings to give out at meetings, but he made a really small vessel- just to show us he could.
David Schied got creative with a tree that came down!
Andy DiPietro brought in his latest wave sculpture.
Bill Davis brought in a rattle, a top, a vessel and two bowls. Check out his very creative natural edge bowl!
Nancy Rourke was inspired by some ceramic bowls and made this milk painted vessel, decorated with an alcohol-based marker.
Andy Postlewaite brought in two ornaments he made as a result of taking a Mike Kehs' HOW.
Bob Crowe finished off some bowls he started while demonstrating his jig for decorating edges.
Lise Bauman rough turned this beautiful cherry bowl in the spring and completed it this fall.
Matt Overton show his recently completed wedding goblet with two intertwined rings and an urn he made to honor of his brother. These are Matt's first hand chased threads- very nice!
Phil Hauser showed his spalted maple vessel. This is a difficult turning; expertly achieved.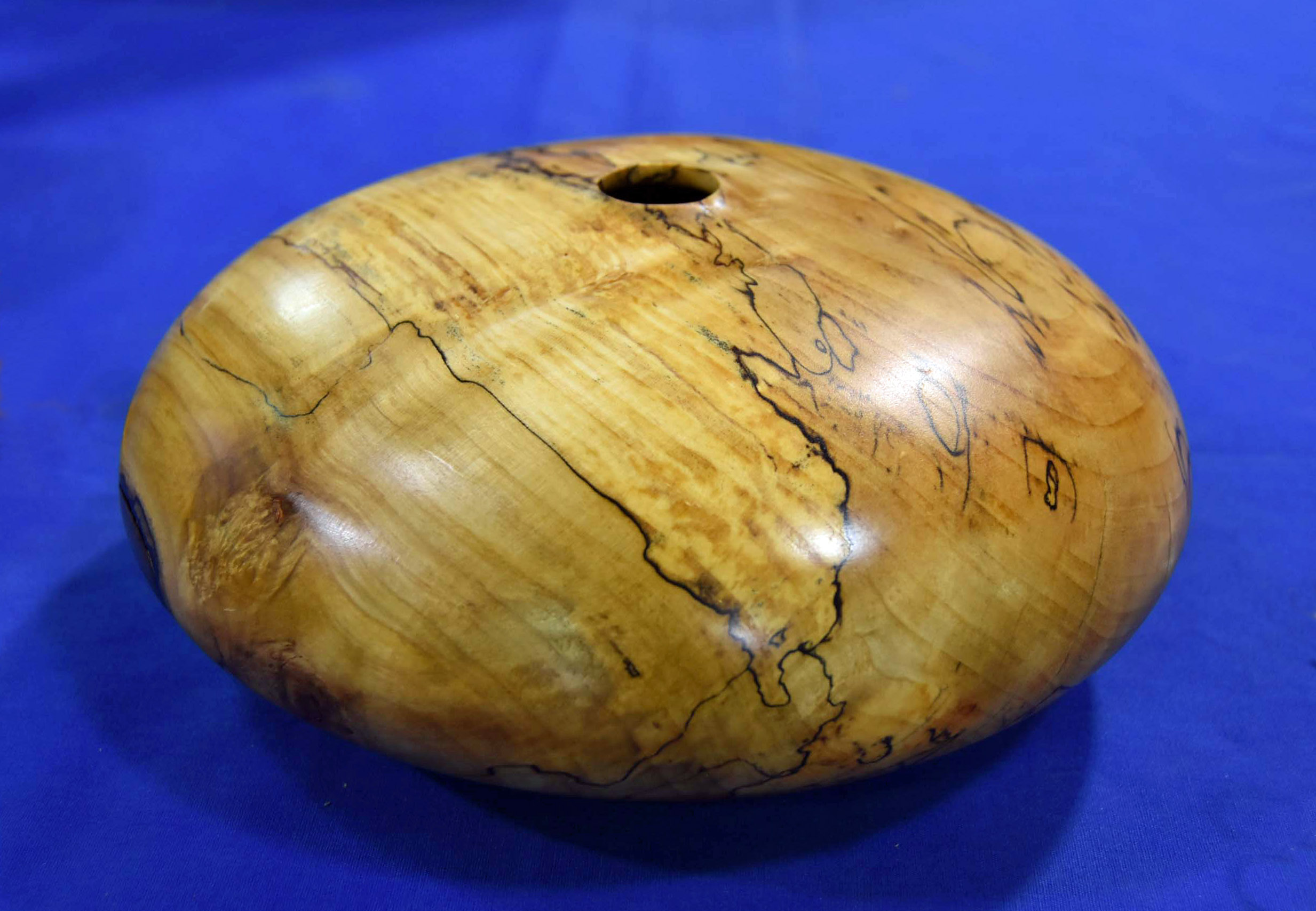 Ron Durr and Matt rounded out the evening with two mini demonstrations. Ron showed us a tool, he made, to machine a sphere.
Matt revealed the secret to those two intertwined rings.
And finally, Bill Davis was the big raffle winner- he brought home a mini-lathe!