Here's Gil Malave working through the collection he brought for May's meeting. It was impressive in number, diversity and quality. For a closer look, keep reading.
Gil played with form and grain in this threesome of commissioned Pin Oak vessels. Named Longitude, Latitude and Gratitude, they were sand blasted and dyed with shoe dye with a very nice result. The last piece was a rescue- after developing a crack, Gil separated the top, cut out the crack, glued in a veneered center and returned the vessel. Nice save!
This glossy hard Maple vessel won Gil a place in the National Veterans Creative Arts Festival. Sharing with and helping other Veterans is an important part of Gil's art experience. He then shared with us a number of his vessels and boxes which include Koa, Catalpa, and Spalted Maple.
Here's a curious piece that begs the question, so, how did he do that? It puzzled Gil for a bit, but he figured it out and shared it with us- turn it on two axes! And take a look at these mice he cleverly put together from scrap wood and leather for the ears.
And, lastly, Gil was the only member to respond to the President's challenge of showing off your legs, so he was named the winner!
Bob Collins showed off a inside-out turning he learned in Linford Sine's HOW class, as well as a number of boxes he had recently turned as a result of taking Phil Hauser's HOW class. His handsomely turned boxes include Poplar, Cherry and Pogoda. His finish is wipe-on poly with a coat of Renaissance wax, buffed with the Beall system.
Lisa Bauman decorated this turned egg shape with stamped birds she created with a carved white eraser and some archival ink. She then really brought them to life by added little details with a fine point pen, following a suggestion by Mark Sfirri.
Dan Comisky is adding metal to his repertoire. He fashioned this beautiful reliquary from a brass tube, cast aluminum and burl.
Bob Crowe, a.k.a. Mr. Wonderful, brought along this masterpiece- a nice crumble with strawberries and whipped cream. Delicious if you were lucky enough to try some. It's not the first time Bob has brought a us all a treat, thanks, Bob!
Here is Phil Hauser, ably assisted by Bryan Richardson, showing two Big Leaf Maple boxes with threaded lids. Phil hand chased the threads and finished the pieces with wipe-on poly.
Bryan Richardson showed this extraordinary quarter sawn Sycamore bowl with yew branches in epoxy decorating the perimeter. He turned the bowl in his Save that Bowl class he teaches with with Nate Favors. Bryan shared a little secret- he finished it with Velvit Oil so save a little time sanding.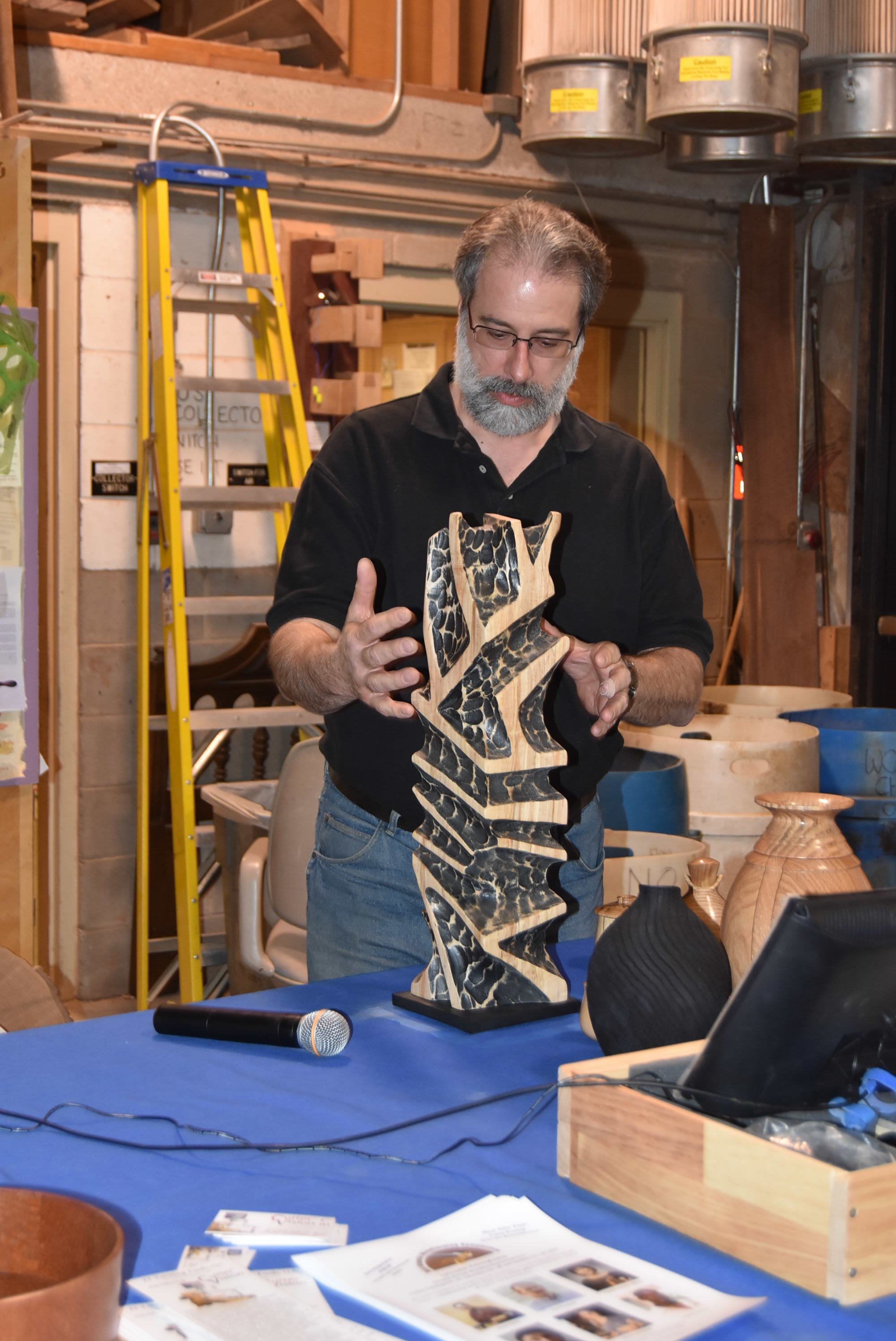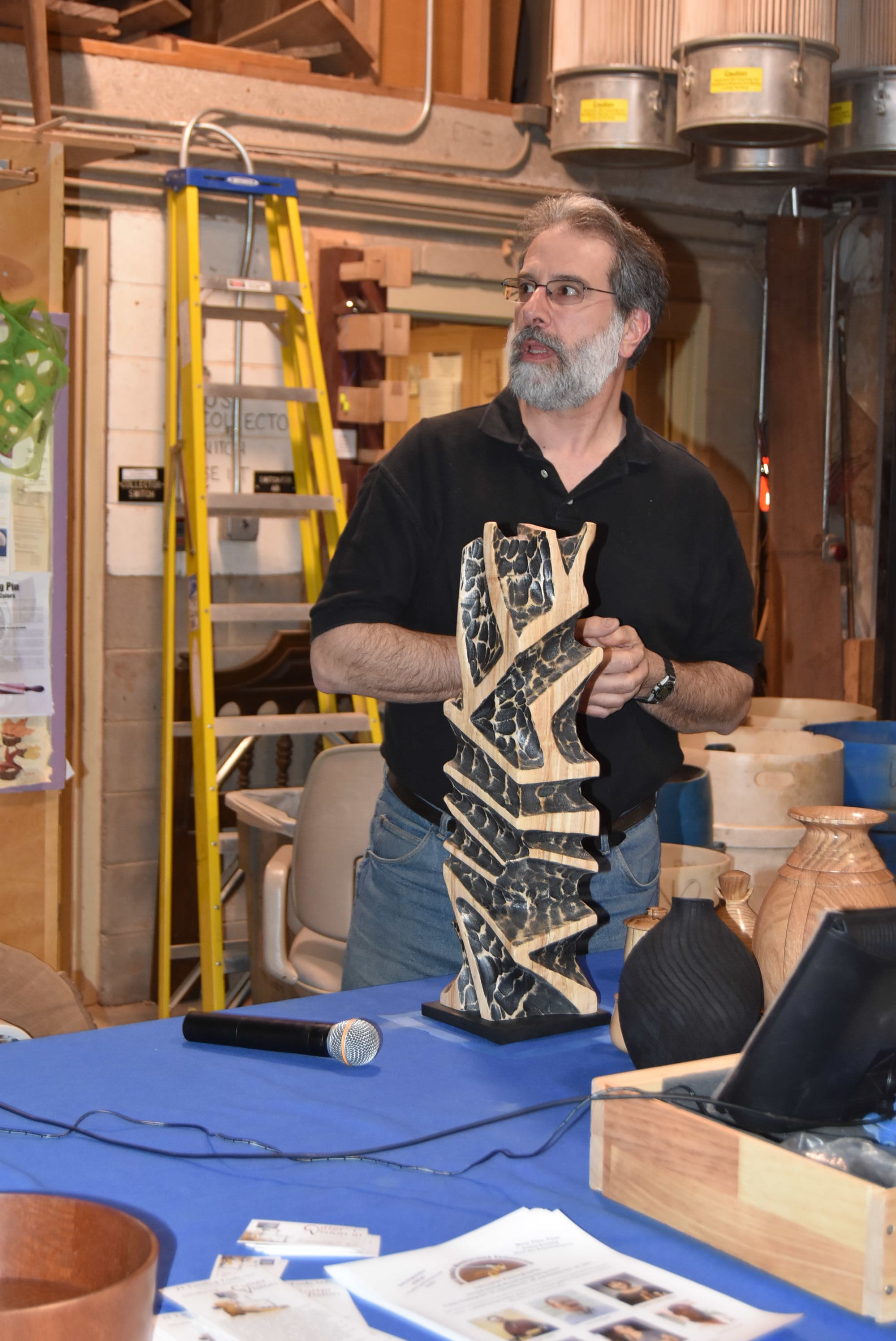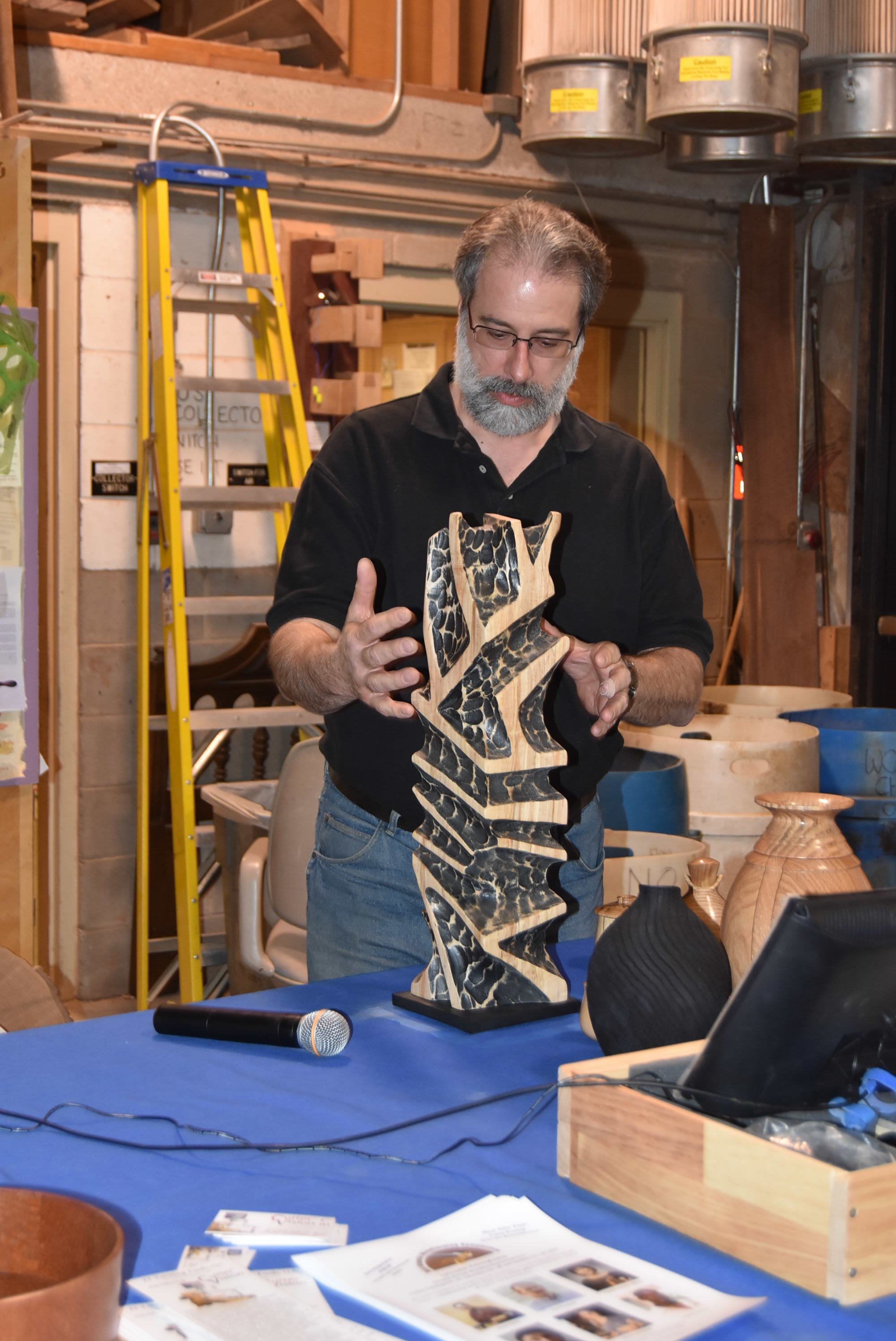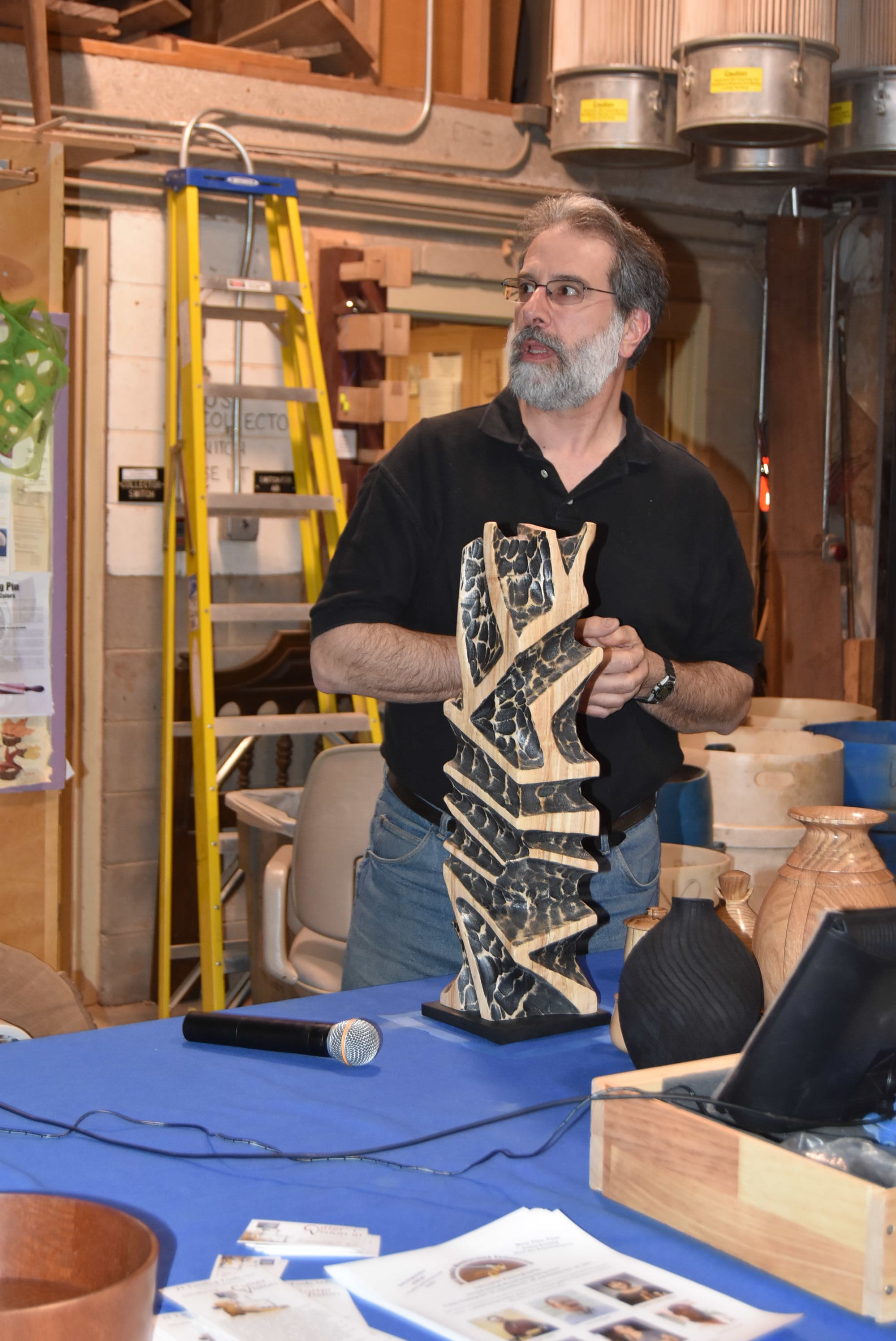 Andy DiPietro brought in a sculptural piece he made utilizing a new carving technique he has been developing; this time with a form of square section. This piece of Maple, from the trunk flare where the wood is most stable, is mounted on a slate base.
Steve Hillerman took Phil Hauser's box class where he learned how to make a tight fitting lid. Check out the decoration he added with a knurling too. He also showed a milk paint decorated grinder he made in Matt Overton's HOW. Very nice!
Bud Hohlfeld continues to innovate with Alumilite. Shown here is Snap and Rattle Eucalyptus Burl with quite an effective result. Bud shared with us that he gets his burls from Jim Syvertsen of Cheasapeake, VA.
Bob Rauch is new to turning, but judging from his work, he's a fast learner and talented turner! He showed off a natural edge bowl and boxes he made as a result of Phil Hauser's HOW class, along with a tangential turning he made in Ward Stevens' class.
It's a pleasure to welcome Paul and Ryan Lazaar as new members to Bucks Woodturners! Ryan, also new to turning, showed some beautiful pieces: a walnut bowl, a Cocobola bottle stopper, and Seagrass pen and Dogwood letter opener.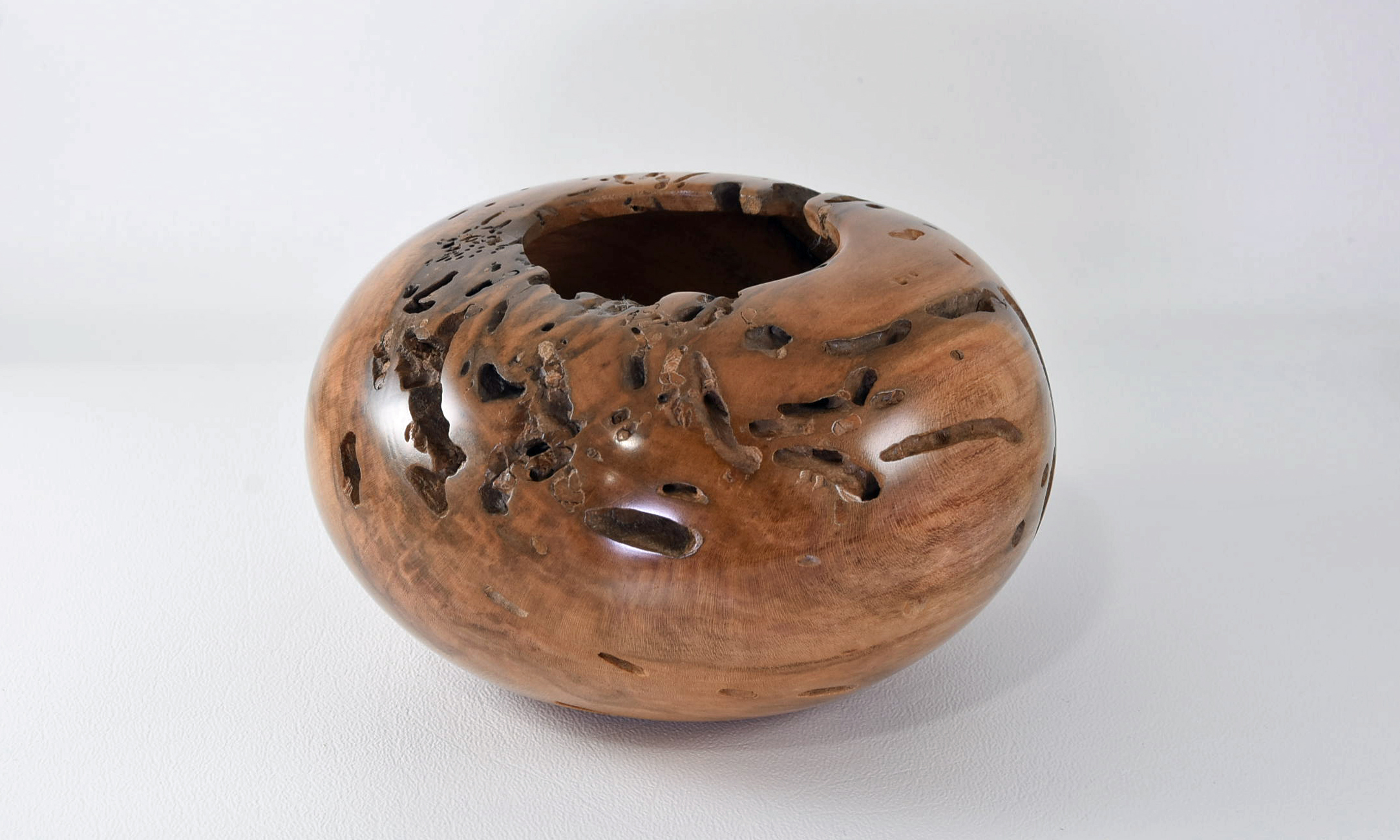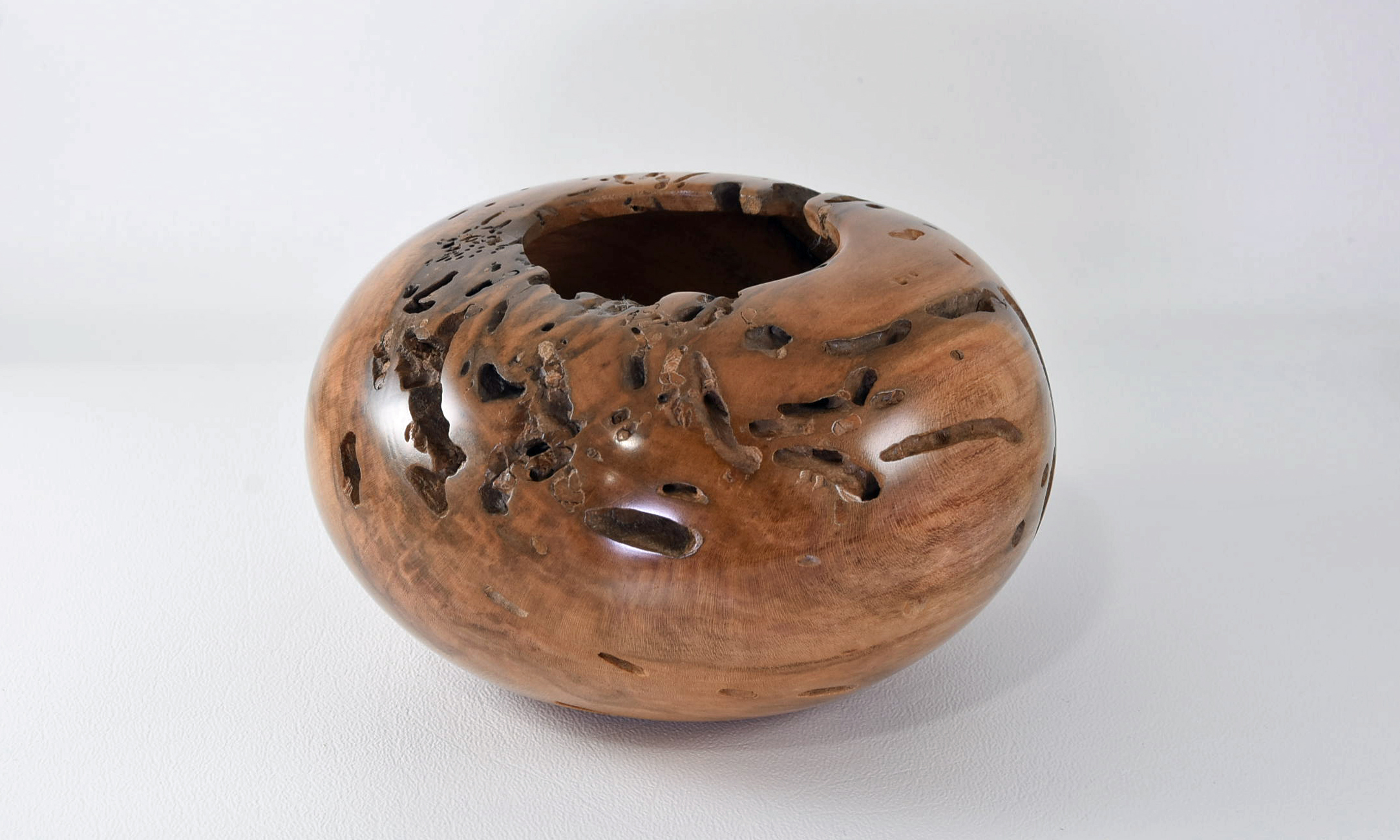 Michael Sivitz deftly turned these bark included, bug eaten pieces. This is a great example of seeing art and possibility where others might only see rejects from the firewood pile.
Bill Strimel, our master of the staved bowl, made these Ash and Leopardwood masterpieces. He also brought in a Padouk bowl turned in the traditional way and finished with 4 coats of Liberon oil.
Joe Seltzer brought along some pieces he's recently turned, as well as some items from his collection. Joe likes to hand out small turnings to friends at conferences- here's just a small sample of his study in this form. He can turn big too! Here's a beautiful calabash he turned from Ambrosia Maple.
Joe then showed some items from his collection: a Koa calabash by Jack Straka, a Mahogany and Willow vessels by Paul Petric, and a box made by Dixie Bigs.
John Manura continues to make some interesting pieces utilizing his invention, the Accu-Slice. These turning incorporate 16 inserts of 40 thousands inserts. Pretty clever!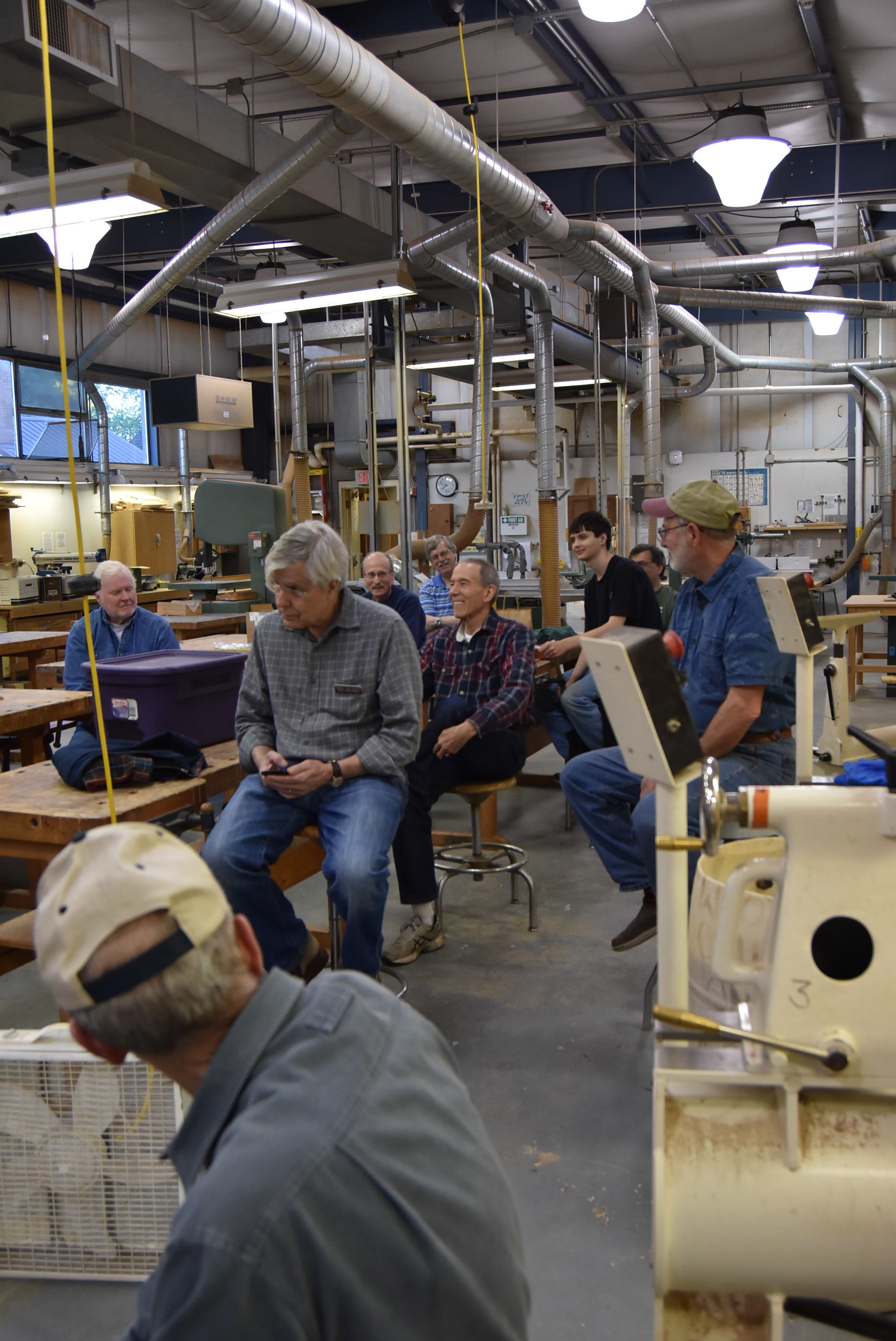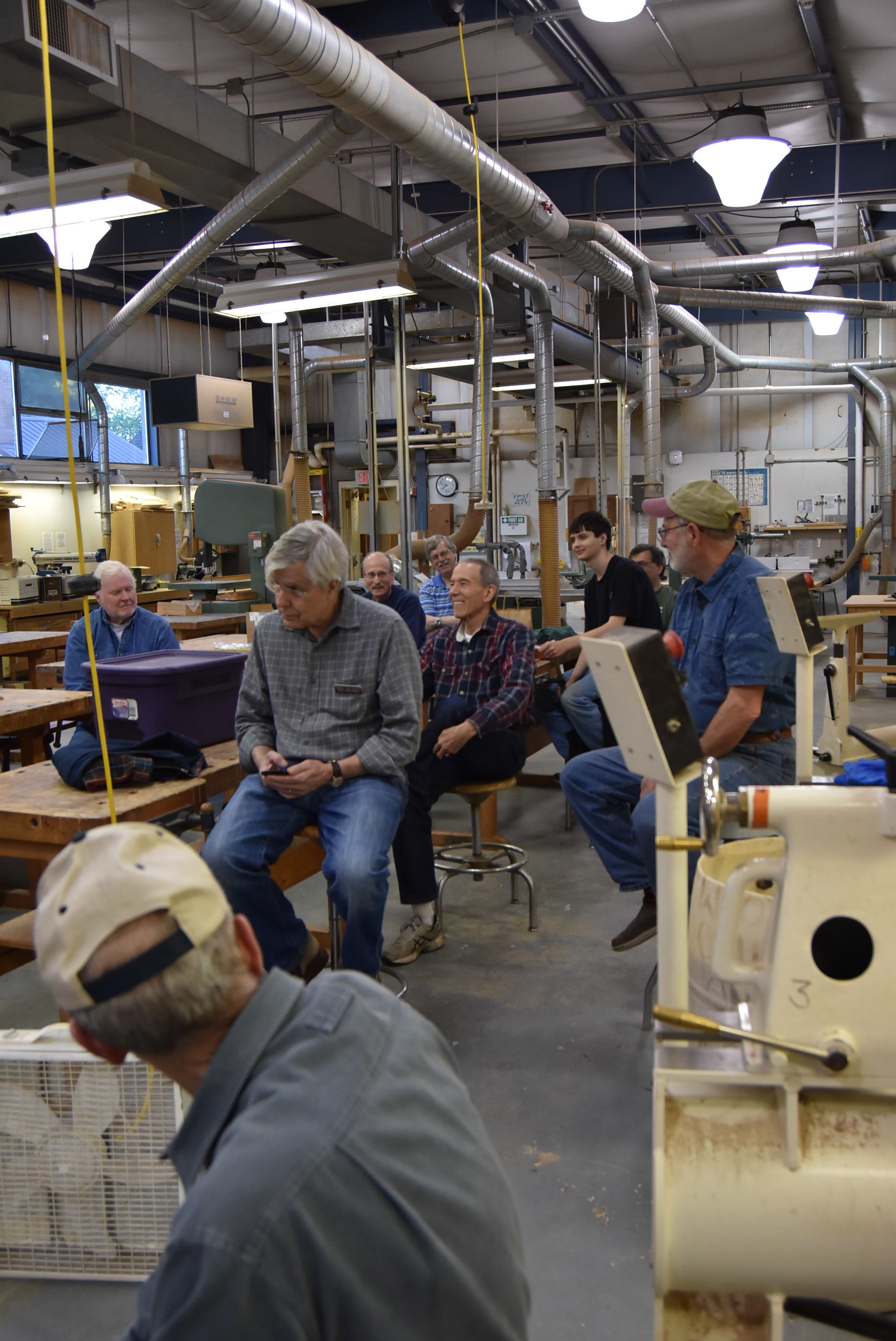 Many thanks to Ric Baker for manning the video system he invented; it makes the meeting so much better! And to all those attend and make the meetings so much fun!